MV & LV Switchgear and Control Center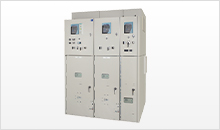 Switchgear in these main substations is of high importance for the safe and flexible operations of the transmission and distribution system. It is flexible and easy to configure and operate with minimum maintenance. This type of switchgear insulation ( air or SF6) is determined by local conditions. Eg. Space availability, economic & environmental considerations, building costs and the relative importance of maintenance. Fuji Electric offers switchgear from the voltage range of 1V up to 245KV. The current ratings cover all possible technical combinations meeting JIS, JEM, and IEC requirements.
After Sales Service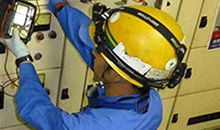 Fuji Electric provides variety of service such as site commissioning, repairing (Shop & Site), preventive maintenance, upgrading, modifications, etc. Also, training service for products opreration, maintenance are available in respective countries.
Life Cycle Service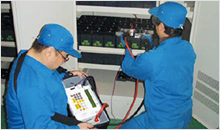 FUJI Electric provides solution for entire life cycle of customer facilities from new installation to renewal. Including costs to operate, maintain and upgrade equipments, recommendation for improve life span.